TIMN
Updated November 24, 2019
In a report for RAND, David Ronfeldt posits that 3 forms of political organization have evolved over the course of history, now joined by one more:
Tribe — Lineage-based political organization. Hacks our natural evolutionary drive to protect our kin by fictionally extending kinship through extremely long chains.
Institution — Impersonal hierarchies. Army, church, nation-state, corporation. Organized on the basis of a shared belief.
Market — Competitive exchange. Organized on the basis of an exchangeable token.
Networks — The internet. Twitter. Wikipedia. Organized via digital networks (mostly).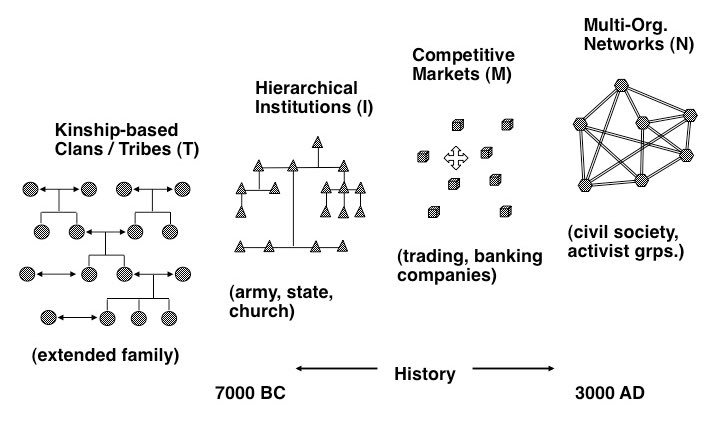 ---
Notes on TIMN from Design Unbound:
In TIMN one societal form does not replace another. Instead they build on eachother, allowing society to solve problems that other sectors have not done well enough at — in fact, problems that other sectors may have created.
And:
New modes of conflict and cooperation emerge with each evolutionary shift.
---
Where does this network shift fit in Donella Meadows's leverage points framework? It affects 4 of the highest-leverage points:
#5 The structure of information flows (who does and does not have access to information). In a network, everyone can reach everyone.
#4 The power to add, change, evolve, or self-organize system structure._ Networks represent a fundamental shift in the way our social systems self-organize.
#3 The goals of the system. Every system has its own tilt, subtly shaping the goals of participants.
#2 The mindset or paradigm out of which the system — its goals, structure, rules, delays, parameters — arises. If the formation of institutions shifted the

social imaginary

away from kinship and toward universalism — first in

post-axial religion

, then later in the

democratic social imaginary

— then perhaps we could expect networks to produce a similar shift in metanarrative?
---
These forms of political organization mirror the forms identified in Francis Fukuyama's Origins of Political Order.
---
David Ronfeldt has a blog.